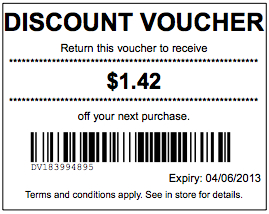 The Discount Vouchers facility we released in our software earlier this year continues to excite our customers. The stories we hear about how they are driving sales are exciting and inspirational.
One customer let us know a couple of days ago about a $75.00 sale they made to one of their customers solely because of the Discount Vouchers.  The customer had spent $35.00 with them and received a voucher offering $3.50 off. The customer did not expect to return to the centre as they were a visitor to the area so they looked around at what else the store offered. This is what led to the $74.00 purchase.  Our customer told us we would not have made the $75.00 sale had it not been for the vouchers.  Thank you!
We are excited by stories like this, stories showing retail customers going beyond the average, beyond what they visited the shop that day to purchase.  Every extra dollar of margin you achieve from a customer visit makes that visit more valuable.
Our approach to front-ending loyalty is changing shopper behaviour. Beyond the software itself, the stories and advice are unlocking deeper retailer engagement.