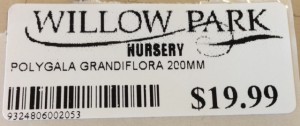 One of the new locations using our Garden Centre software is producing a sexy looking product barcode label direct from our software.
Willow Park Nursery is a leading Canberra nursery located in tranquil surroundings at Pialligo. We are thrilled to welcome them as a new client and user of our Garden Centre software.
Being able to produce professional looking labels that incorporate the corporate image of the business is important to us and to our clients. It leverages strong local brands and helps businesses like Willow Park Nursery promote their brand on products after they are purchases.
Our Garden Centre software continues to grow in use among garden centres and nurseries.