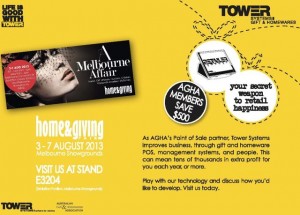 The Tower Systems gift shop software is on show this weekend and beyond in Melbourne at the Home and Giving Fair that makes up part of the three trade show gift fair. The largest event of its type in Australia this is the must-attend gift and homewares trade show event for retailers and suppliers in the gift and homewares channels.
Tower Systems has been participating in and supporting this event for the last six years and most of those as they only specialist software company. This experience is proving to be invaluable to our customers and to suppliers to gift shops who want to leverage technology to drive their own sales.
We are flying experts in to man our stand for the event to provide broad sales and support coverage across the full five days.