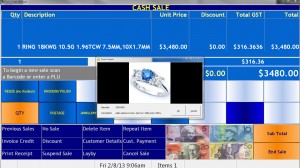 Retailers love the facility in our Point of Sale software where an image of what is being sold pops up during the sales process as it provides confirmation that the right item is being sold.
Sometimes shoppers will change a barcode to get a product at a cheaper price. This pop-up provides another measure of security for the retailer against fraud. It also protects against mistakes.
Turning on the pop-up during sale facility is easy. This enables retailers to see if it's useful in their type of business. Loading images of products being sold is also easy. This can be done by item or loaded en masse – depending on the needs of the business.