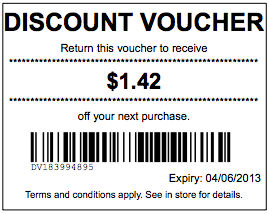 The exclusive discount voucher facility released in the Tower Systems Point of Sale software early this year continues to drive excellent sales outcomes for retailers engaged with us and our smart POS software.
What sets the Tower Systems approach apart is the powerful flexibility provided through the settings available. These are settings unique to the Tower software, settings developed in close consultation with leading retailers, settings that take the facility beyond the simplicity of the name of the function.
Our retail management advice today is for retailers to try the function. It's easy to turn on and off, easy to tweak and easy to measure. Indeed, the reporting tools are exclusive to Tower Systems – they are helping retailers drive excellent commercial outcomes.