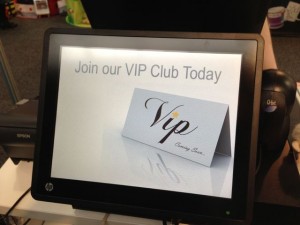 Promoting retail customer VIP cards using the screen on the customer side of the sales counter helps drive engagement. We see this working well in jeweller and bike retail businesses. Our jeweller software and bike shop software each offer excellent and much-loved VIP customer vacilities. Our marketing team back these up with professionally designed and made VIP cards for customers to carry.
Inviting shoppers to join with a passive yet professional pitch during the sales process can help engage shoppers without making a hard sell. This is another example of how these customer-facing screens can work well … especially in high end retail situations like bikes and jewellers.
Using the VIP card facilities in our Point of sale software, retailers are able to reward genuinely loyal software's, more effectively engage with these shoppers and understand more about them for future business marketing planning.
Tower Systems has offered VIP facilities for many years and today has retailers across a range of retail channels using them in a variety of business beneficial ways. We back our software facilities with business advice, helping our retailer customers to get more from their software.