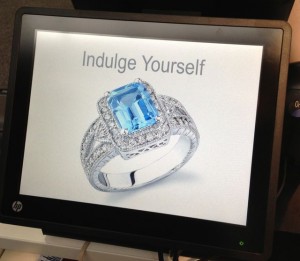 Professional display of up-sell opportunities on the customer-facing screen on our latest POS hardware, jewellers using our jeweller software are able to up-sell in a more passive yet valuable way to customers presenting at their sales counter.
The photo shows how an image appears on the customer-facing promotion screen at the point of sale. It's a live image served by our software in a jeweller retail setting. Retailers using our software have control over the images served as well as to whether any sales data is shown on the screen. The opportunity is to engage in a variety of ways as appropriate to the needs of the business.
This latest hardware with the quality customer-facing screen is a POS hardware unit from HP. It comes with a three-year on site warranty.
Jewellers using our Jeweller specific software also have access to many reports and facilities designed for their specific type of business – many of the facilities have been developed in consultation with jewellers themselves.