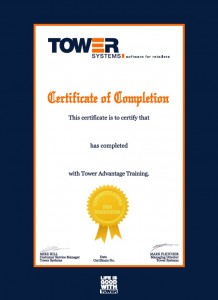 More and more retail employees working in businesses using our Point of Sale software are enjoying and benefiting from our comprehensive video based training.
Made up of more than 130 videos, access to the library is guided through a web based curriculum facility we have developed that tracks videos watched y employee per business. This gives retailers visibility over employee engagement and can help with better management of team members.
Everyone completing a curriculum will be provided a professional certificate of achievement – something that will be a good addition to any resume pack.
The development of the certificate is another level of thoughtfulness by Tower Systems of those engaged in the professional training being delivered through this program to small business retailers and their employees.
The training program is unique for small business retailers like newsagents, jewellers, bike retailers, gift shops and garden centres. It's been delivered as a result of considerable investment by Tower Systems.