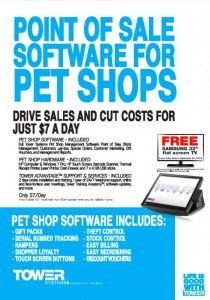 Tower Systems is proud to be a sponsor of the Pet Industry Association of Australia in the lead up to their trade show next month at which the latest release of our pet shop software will be launched.
The new software features in the issue of Pet Industry News in circulation this week among 7,000 pet shops and related businesses.
Facilities in the Tower pet shop software used in other retail channels is serving pet needs well – facilities like serial number tracking, hampers, shopper loyalty, gift packs, discount vouchers, catalogues and smart business reporting.
We are also learning some business management techniques from pet whop owners and managers that are helping us to enhance our software for newsagents, gift shops, jewellers and bike shops. It's a thrill to learn ways we can enhance the software for one marketplace that can benefit another.