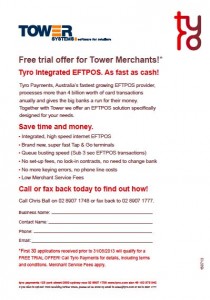 Retailers and customers don't like waiting for EFTPOS and credit card transactions to go through. Some can be slow. Years ago we partnered with Tyro broadband EFTPOS to deliver an integrated solution – making handling EFTPOS payments from within our spftware easier, faster and more accurate than a separate bank supplied terminal.
Our friends at Tyro have put together a free trial offer, to enable retailers to try Tyro for themselves and see the difference offered by Tyro and our smart integration of its benefits within our software. This offer for Tower Systems customers is being more into the Tyro community.
We like Tyro because it helps retailers eliminate keystrokes at the counter, process EFTPOS payments faster and reduce mistakes. Staff love it and this in itself helps the business. The commercial benefits are considerable.