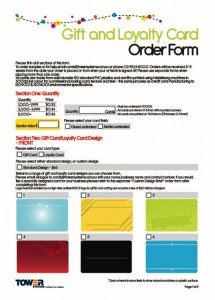 Not only does Tower Systems offer awesome POS software that can be used by retailers to manage gift cards, the company offers a gift card design and production service. Using our own in-house designer, we have been responsible for producing cards for many different retail businesses – large and small.
Our latest gift card order form allows customers to order a gift card from templates established or have their own bespoke card made. This flexibility in gift card options reflects the flexibility in our software – helping retailers use our POS software in the way that best suits their needs.
By enabling retailers to produce their own gift cards and manage card balances using our software provides our customers with a whole of business solution, a means through which they can retain more revenue for their business rather than shipping it to other retailers by selling their branded gift cards.
In addition to excellent gift cards and POS software managing gift card balances, we work with retailers on the engagement on the shop floor, drawing on our own years of experience as retailers using gift cards ourselves. This personal experience helps us provide a level of assistance on implementing facilities like this in our software that go considerably beyond what the traditional software company offers.