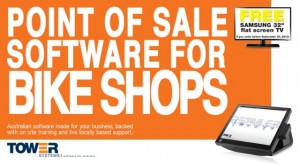 Tower Systems is promoting an offer to bike shops, offering its Bike Shop software as a package deal for a brief time only with a FREE Samsung flatscreen TV. Put together as part of a package deal, this offer helps make the Tower Bike shop software more enticing in the period leading up to the buy christmas trading period. The offer is already helping see the tower Bike shop software get into more bike shops.
The Tower Systems bike shop software is the most widely used bike shops specific software in the marketplace, delivering access to specialist facilities for retail, workshop management, customer relationship management and supplier interaction.
the Tower bike shop software is regarded as the bike retail industry best practice software.
This latest offer connects with a desire from suppliers, groups and bike retailers to lift the channel into a more integrated IT worlds where online and high street opportunities can be leveraged for the benefit of all.  Tower Systems is grateful to many stakeholders for their support and encouragement in further enhancing the software into fresh areas to add value to bike shop businesses.