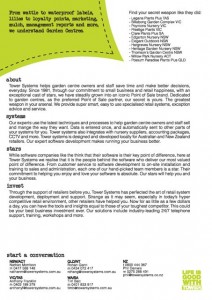 We are excited for the promotion of our garden centre software in a leading trade journal later this month as it will announce the release of new software with enhancements developed with some leading garden centres.
One of the most exciting enhancements is in the area of shopper loyalty. We are combining VIP facilities and discount voucher facilities to create an even better suite for garden centres keen on offering both and combining them for greater shopper power and business value.
We see our work with garden centres and nurseries in Australia and New Zealand as joining in a journey to deliver better business efficiency and more valuable business success. This is done through improved customer experiences, more efficient inventory management and astute business performance reporting guiding better decisions.
We call it a journey because there is no end point. Like all good software, our POS software and our garden centre software continue to evolve to meet the  needs of the evolving marketplace.
this latest promotion in a trade journal is exciting for the feedback it will bring.