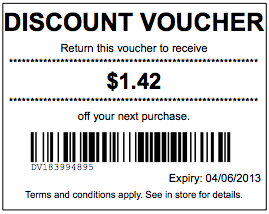 The discount voucher facilities being used by retailers enjoying the Point of Sale software from Tower Systems are increasing sales according to retailer feedback.  Just about every day we hear stories from retailers about additional sales they have made as a result of the discount vouchers produced by our software customer receipts.
Retailers moving from old-school points-based VIP card programs to discount vouchers report greater shopper engagement and new positive customer feedback about the vouchers.
Retailers where the vouchers have been in use for some months report measurable bottom line growth directly attributable to the Tower Systems discount vouchers.
Retailer feedback indicates that the discount vouchers are working in a broad range of businesses including jewellers, bike retailers, newsagents, garden centres, gift sips and homewares stores. We are seeing them work with high transaction values as well as low transaction values.
By front-ending loyalty, retailers are able to get shoppers spending more money in the business on that visit. This is vital in the situation where shoppers are not regulars in the business.  Those not using the voucher in the visit most likely will be back within a week. Feedback suggests that 45% of vouchers used are redeemed within seven days of the purchase.
The most common feedback is in the form of an email from a customer using discount vouchers like this one:
Just a quick note to say I LOVE LOVE LOVE the discount vouchers. I have been using them for two months now and its like someone turned on the lights. Sales are up and customers are happier. Thank you!
Other customers give us specific examples of how the vouchers are used by customers. we love all the feedback. Some of it has helped us make enhancements to the discount vouchers facilities to extend the opportunity for our retail customers.
We are thrilled to have released such valuable software to our 2,000+ customers.