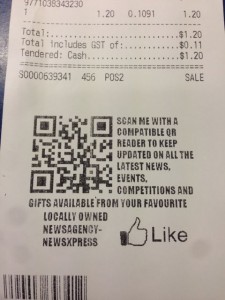 Retailers using our Tower Systems Point of Sale software have been able to include advertising, coupons and promotions on customer receipts. Smart retailers have engaged with this opportunity to wonderful commercial advantage.
Our Sunday advice today is to consider using this opportunity of the receipt as a marketing device to reach out to customers to get them spending more with you. The receipt is a perfect carrier of your message. The space is yours to use.
The photo shows how one retailer is using the receipt to drive engagement with their business Facebook page. others use receipt images to promote specific products. The opportunities are endless and the facility is easy to use.
Use your receipts to market your business and expect good results.