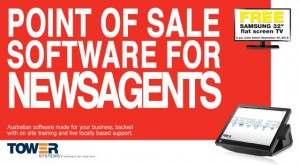 Newsagents have loved the opportunity of a gift of a Samsung 32″ flat-screen TV from Tower Systems as part of the September promotion of its newsagency software.
Offering a well-known brand flat-screen TV as a gift reinforces the importance of brands. Tower Systems only sells brand name hardware for running its POS software.
Through its partnership with HP, Tower offers three-year on-site warranty coverage.
The Samsung TV offer was part of a supplier supported promotion that added value to the newsagency packages offered in September. This promotion has been an excellent point of different for Tower.