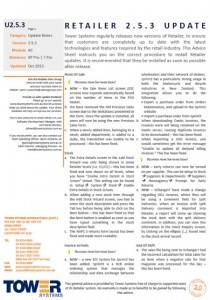 We have received terrific feedback from customers about the documentation provided to go with the latest update to our Point of Sale software.
The four pages of update noted document the software enhancements delivered as part of this latest up0date. Our customers can read about what is in the update before it's installed – so they can be prepared for changes in the software.
What our customers tell us they love is the professionalism of the documentation as well as the extensiveness of what we provide. We ensure that our update notes provide enough information to educate our customers on the changes. We back the notes with over the phone and video based training where people would like to access more information.
The update notes demonstrate a professionalism that is also reflected in our software. What we have produced this time around is not new for us – it's what we usually do.
Our sales team is armed with copies of update documentation as it's a selling feature for us.