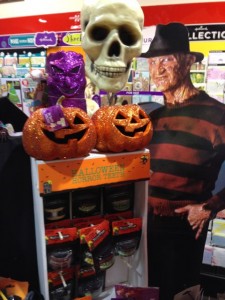 Tower Systems has been working with a range of retailers to make the most of the Halloween 2013 opportunity using our Point of Sale software. Halloween has grown from a niche season of minimal interest outside the United States to a season of extraordinary value to retailers across the globe.
Strategically, Halloween is an excellent lead-in season to Christmas. However, to make the most o the opportunity retailers need to engage with their POS software, leveraging tools encoded in smart POS software to make the most of the Halloween opportunity.
Our own experience as retailers gives us the inside-running here to make Halloween work valuably for retailers. For example, using our software retailers are able to easily promote Halloween on receipts to shoppers, email halloween shoppers from last year, promote other products to Halloween shoppers and handle the make-up and deconstruction of Halloween hampers and gift packs.
Well before the season started we have been able to help our retail partners with product ordering based on previous sales. This is important for seasonal products since those handling product ordering are likely to not have easy recall of exactly worked and what did not work last year.
These and other benefits are helping our retail partners to make the most of the Halloween opportunity in retail this year.