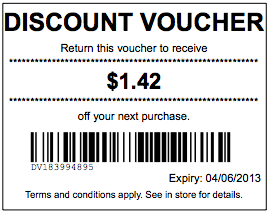 We now have hundreds of retailers from our POS software community using our EXCLUSIVE discount vouchers facilities. The feedback is excellent with retailers telling us they love the ease of use and professionalism but most of all they love the sales growth.
There is no doubt that the discount vouchers facilities increase sales across a range of retail sectors based on the feedback we have received.  Jewellers, newsagents, garden centres, bike retailers … they are all able to drive shopper engagement through the vouchers printed on the base of receipts.
From a Tower perspective we have successfully used the discount vouchers to win business for us. In a situation recently a retailer told us a competitor offered the same facility. We suggested the retailer look at this and then at what we do. They decided to go ahead with us. Our discount vouchers implementation is unique to Tower Systems. While others may use the same descriptive label, what they have is not what we have.
Retailers who partner with Tower Systems have tremendous management control over how vouchers are issued and redeemed. This control can be money in the bank as the retailer tweaks levers and through this guides shopper engagement. This is what a good loyalty system does – it drives financial rewards for the retail business.