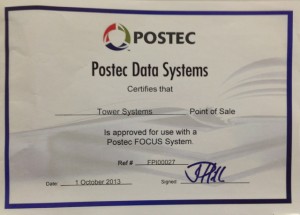 Getting a bit of paper to prove achievement is as nice in life as it is in business. The bit of paper pictured is the certification we received for the successful integration of fuel dispensing facilities within our Point of Sale software.
This certification by Postec is another example of Tower Systems working to professional standards in enhancing our software.
This integration extends the reach of our POS software and demonstrates that an external government approved certifying authority has passed us for our integration work.