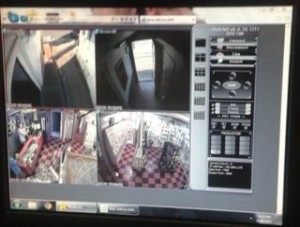 Our software development and hardware teams have been working hard in recent weeks to bring to market a new POS software / CCTV integrated solution, an enhanced solution beyond what we have offered for many years.
We are thrilled to advise that the latest work is paying dividends with the new security bridge close to launch, delivering better and more useful security solutions integrated with our Point of Sale software.
The new security bridge is a best-practice solution, integrated with our Point of Sale software, delivering small business retailers tools with which they can better track and manage employee and shopper theft and through which they can expect to drive a better bottom line for their business.
The photo shows one of our many installations where the shop is monitored from the POS screen.