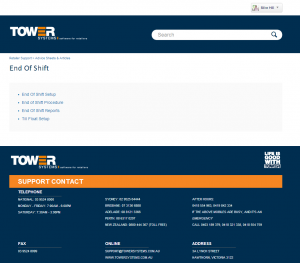 The new self-serve support / advice / video / training platform launched by Tower Systems yesterday contains fresh information and assistance on using our software.  We have gathered information by topic: – the screen shot shows end of shift advice sheet content.
In addition to making it easy to navigate by topic, our customers can search content using any keyword(s). The search is through all the content we have stored.
We have lifted the benchmark for POS software support access.
The professional assembling and presentation of information reflected on the professional approach we take in our software and in the support assistance we provide. It's a terrific way to compare us to other businesses.
Each screen also contains information on how to contact our help desk 24/7. We make contacting us for help as easy as searching our knowledge base.
The launch yesterday of this new facility sets a new benchmark for POS software support. Whereas some companies focus on live one on one support and others focus on remote email or website support, we are offering enhancements of both – for the benefits of retailers using our Point of Sale software.