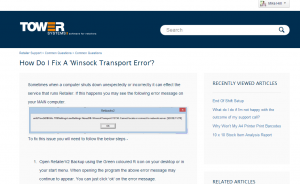 The enhancements to the backend of the Tower Systems website earlier this week include consistent packaging of advice and information to assist our customer to get more from their POS software.
The screen shot shows the clean and professional way information is assembled, how we embed screen shots and how we write the advice for the non technical users so they can comfortably access help.
From the writing to formatting to packaging, this new self-serve knowledge base / training / user advice facility through which our customers can access support information is a game changer in our marketplaces. It shows our commitment to refreshing not only the advice we provide but how we provide it.
We are proud of adopting a worldwide best practice approach to making software support information accessible and understandable for the small business owners and their employees who use our software.
The launch on Monday of our new online facility is the result of an extraordinary manpower investment and a considerable financial investment.