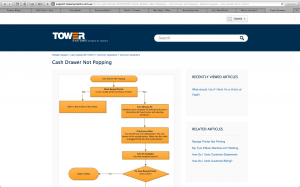 As part of the enhanced self-serve POS software knowledge base help desk facility launched by Tower Systems this week, retailers using our software have access to fresh content including this screen that guides easy resolution of a cash drawer not popping issue.
Following the flowchart retailers using our software can fix more than 95% of instances where a cash drawer is not popping.
This advice can be easily found using menus in our new self-serve portal or by doing a keyword search in plain English. The power of user driven search is excellent. It's fast, easy and 100% focused on the user outcome.
The feedback from our customers accessing the self-serve facilities launched has been wonderful.