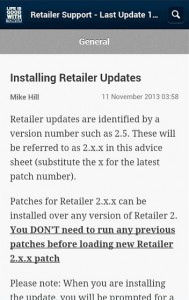 The new mobile access facilities launched by Tower Systems this week as part of the new self-serve help desk facilities for retailers using our Point of Sale software take POS software customer service in Australia to a new level.
The image shows a screen on a mobile phone where someone is accessing notes on installing a new release of our software. Here our customers can access notes on their phone without having to use the computer on which they may be doing work.
By releasing the entire database of advice sheets, customer service knowledge base and user training videos through mobile devices we have significantly enhanced the customer experience. While our users have had access previously, the new platform significantly improves the user experience thanks to completely new technology now deployed for our customers.