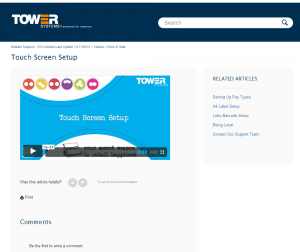 The new customer service and support facilities on our website are also providing even easier access to our training videos. This screen show shows how the Touch Screen setup video comes up. Our customers can find this by navigating the menus or doing a search on one or more of the words.
Providing access to videos from this new facility is in addition to providing access via the comprehensive professional curriculum based training platform that we also maintain on our website for our POS software customers.
This new support and knowledge based access platform is all-encompassing. It's rich in content from the launch on Monday. It's also easy to access. We are thrilled to be delivering this for our customers.