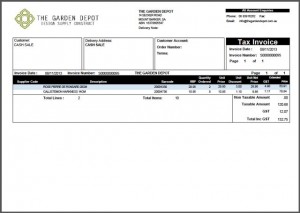 The Tower Systems Garden Centre software offers a range of customer invoicing options including this professional invoice produced directly from the software.
Developed in consultation with garden centre owners and managers, this invoice and other garden centre software invoices, quotes and customer documents help garden centres using our software to represent themselves accurately and professionally – and in a way that meets the specific needs of the garden centre nursery industry.
This is what being a specialist software company is all about – meeting the needs of the niches in which you serve by providing rich facilities tailored to the needs of your customers.