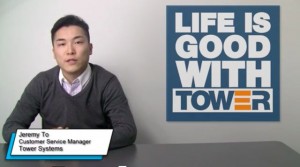 We have loaded a new welcome video to the public area of our website to make Mandarin speaking customers and prospective customers feel at home. featuring Jeremy To, one of several mandarin and Cantonese speaking POS software help desk team members here at Tower Systems, this video welcomes customers who prefer to speak with us in Mandarin.
This video shows off another point of difference for Tower Systems. We are thrilled to have people like Jeremy on our team – for his knowledge and his commitment to helping our customers access support in the language they are most comfortable using.
Tower Systems serves hundreds of retailers, many of whom are newsagents, who prefer to access support speaking mandarin or Cantonese. that we offer the service has been a factor in the growth of our company.
This new video was loaded to our website last week.