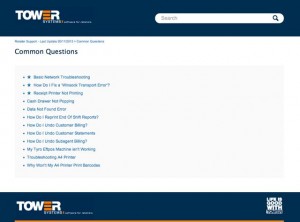 Tower Systems continues to expand the common questions area of the self-serve knowledge base launched by the company last week. Leveraging an already rich and valued based of knowledge on how to get the most from our software, the new common questions information separated our the most common calls received on our help desk and provides advice and assistance on a self-serve basis.
This set of common questions advice is searchable using any text entered by someone using our new customer service portal. It can also be navigated through menus. Either way, our customers have access to unto date professionally presented advice.
New common question information has been loaded this week.
The engagement from our customers to the new self-serve facilities has been excellent. We continue to back the online facilities with a full-servicelive help desk through our national help desk facility based =in our Melbourne head office with local number support access from interstate and toll free number access from New Zealand.