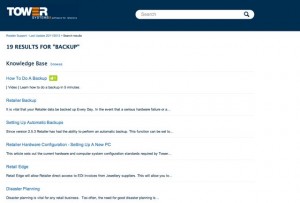 Here is a good example of the value of the new searchable self-serve knowledge base on our POS software support website. By typing backup into the search box, a customer is presented with a video on how to do a backup along with written advice on this including how to, when to etc.
As the screen shot shows, customers can like content – one has liked the video on how to do a backup. In addition to liking, customers can provide feedback and add their own comments to all content we have loaded on our site. This two-way conversation can help us and help our customers improve the overall user experience.
We are now two weeks into the new knowledge base being live and the feedback has been excellent. better still, the engagement has been fantastic. We can see that engaged retailers are learning more about our software. We love this!
Our live help desk service continues and will continue. The new deeper online facilities are for customers who prefer self-service. They also help us sell the software as we get to show off more of what we do. The facilities also facilitate competitor comparisons.