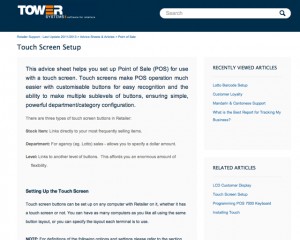 Tower Systems makes it easy for retailers navigating support using the new self-serve portal on our website. On the right of the screen we list Recently viewed articles and Related articles. These two lists are specifically created for each person using the facility at that time. We are showing them where they have come from as well as topics that may interest them.
It is attention to this level of detail that makes our self-serve knowledge base more useful. Customer feedback is they love the facility and the content it provides access to.
We are thrilled to be offering such a loved and much-used customer service point of difference in our POS software marketplaces.