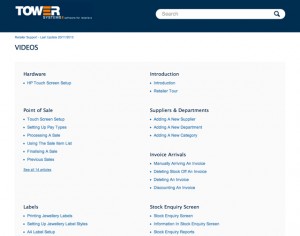 Retailers using our new self-serve POS software knowledge base portal can easily access more than 100 fresh and relevant training videos through our structured menus. They can also search the video content along with all other content managed through the knowledge base.  The list of videos is way more extensive than then image with this blog post shows.
Thanks to the excellent search facilities in our new platform, videos come up in search results lists as appropriate for what someone searches for.
In addition to new access to videos through our knowledge base, our video library continues to be available through our exclusively written curriculum management facilities.