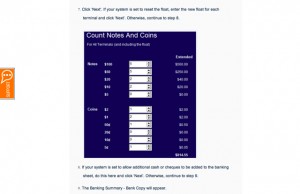 Here at Tower Systems we provide advice beyond how to use our POS software, we explain retail management processes and guide our software users to make better use of the software so as to avoid mistakes and to catch misbehaviour. This business operational advice is tagged and keyword-stored in a way that our customers can easily search using the powerful yet easy to use search tools in the new knowledge base tools released more than two weeks ago.
A good example of our practical help to retailers in in the advice, training and other assistance around End of Shift processing. Using our software to manage the EOS process retailers are able to more accurately handle the work and more accurately track cash and other methods of payment.
The information, advice and training our customers can access through our knowledge base for handling the EOS process is extensive. That this is part of a searchable resource is excellent. Customers are loving it.