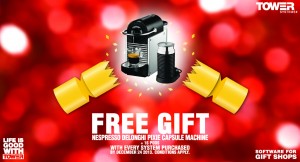 Tower Systems is offering a gift of a wonderful De Longhi coffee machine and tasty Nespresso coffee pods to jewellers, bike shop owners, retail and distribution newsagents, gift shop owners, garden centre owners, adult shop owners and pet shop owners purchasing a retail channel specific computer system in the run up to Christmas 2013. Who can say no to good and tasty coffee?!!
This special offer is courtesy of Tower Systems and our hardware suppliers as a Christmas 2013 gift opportunity. We have already started shipping the coffee machine package gift.
Packaging solutions for retailers as a one-stop shop opportunity helps retailers embrace technology more easily. We become the one place they deal with for hardware and software. We are equally happy to sell the software alone.