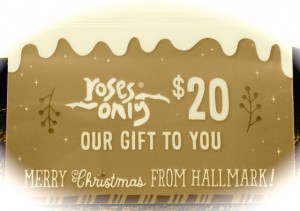 We were thrilled to receive a bundle of $20 Roses Only gift cards for everyone from one of our partner suppliers this week. Within minutes of handing out the gift cards Tower team members were using them.
These gift cards are an excellent reminder of the facilities in our POS software for vending gift cards. Our retail partners can vend their own high quality branded cards and they can vend gift vouchers using the software. They can also access a wide variety of corporate branded cards from other retailers for sale within their business.
This time of the year especially having access to a range of gift cards for sale is valuable for retail businesses, especially those selling gifts and cards. Our work in integrating with gift card offerings has helped many retailers deepen shopper baskets and add to business value.
We love the gift of the Roses Only gift  cards to our team members.