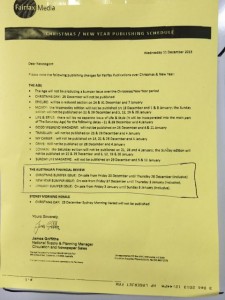 Newsagents using the Tower Systems newsagency software are ready to handle the bumper edition newspaper requirements for the 2013/2014 Christmas New Year period thanks to advice from publishers advising their plans and thanks to flexibility in our software for handling such special circumstances.
Being prepared with this advice well in advance3 of the first bumper edition of the season is vital to delivering good customer service and essential to the smooth running of newspaper distribution businesses.
Our help desk team has been briefed and advice prepared.