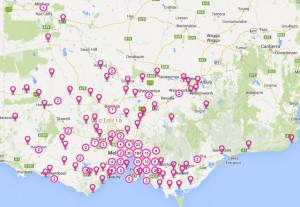 Tower Systems continues to leverage the strength of the size of its newsagent software user community of close to 1,900 newsagents for the benefit of the channel.
Through 2013 the number of newsagents partnering with Tower has grown. This growth has come from new newsagency locations, newsagencies not using software and newsagencies switching from other newsagency POS software.
As the newsagency channel continues to consolidate so are newsagency software companies. Tower Systems takes its responsibilities seriously as evidenced by its investment this year on online training, the new knowledge base, more training opportunities and pro bono help for newsagents in managing their businesses.
The image shows newsagents using Tower in Victoria. Some pins represent a single location while others, with a number, represent many Tower users in town / city.