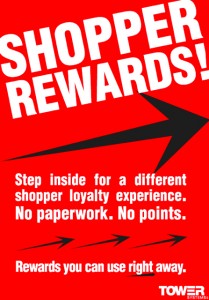 Tower Systems has released collateral for use by retailers in promoting its exclusive discount vouchers offering.
Pitching the instant availability of hassle-free rewards, this collateral is set to help the hundreds of retailers who have engaged with the Tower loyalty offering.
The No paperwork and No points messages reinforce that this is a fresh approach to loyalty – then comes the clincher: Rewards you can use right away.
This collateral, developed by our in-house marketing team, has been made available free of charge. Posters are available in A4 and A3.
In this collateral Tower Systems shows commitment beyond its software, deeper into retail businesses.