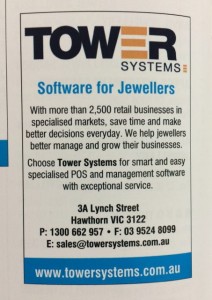 Tower Systems is promoting the latest version of its industry-standard jeweller software in the 2014 trade directory for jewellers that has just been published.
This listing is timely with the release just a few weeks ago of a new version of our software for jewellers – delivering new facilities and enhancements to existing facilities – making it better software for jewellers in Australia, New Zealand and elsewhere.
Tower Systems engages in a range of marketing activities reaching out to jewellers beyond this trade directory listing. We participate in jeweller trade shows, industry events, direct marketing and online discussions. Our jeweller business experts meet with jewellers in-store to discuss business opportunities.