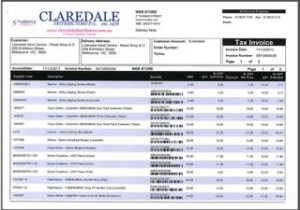 Retailers and wholesalers using our Point of Sale software have access to a range of invoice options – from the simple to the detailed. Like all documents produced by the Tower Systems POS software, they are professional – a proud representation of the user business.
The look of business documents is important, especially an invoice as it can assist in reading the details as well as giving an impression as to the professionalism of your business.
The image example is for one of our clients – showing an invoice generated by our software from webstore sales. We are proud of the look and feel of the generated invoice – it's classy and professional.
Retailers and wholesalers partnering with Tower Systems have access to excellent invoicing tools and options in their software. As the software matures so do these options – thanks to feedback from engaged customers.