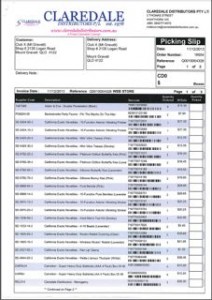 Tower Systems is proud of the packing slip options in its Point of Sale software. This document works in wholesale and retail situations where goods are packaged and sent to a customer.
The detail of each item is excellent including the barcode for each line item listed on the packing slip.
What is beautiful about the Tower Systems POS software is that the packing slip can be customised to serve the needs of each business. The flexibility is excellent and the result is professional – something of which the supplying business can be proud.
In providing extensive customisation opportunities for retailers and wholesalers in key business documents produced by its software, Tower Systems is demonstrating its commitment to flexibility and service – helping small businesses compete with docs produced by bigger competitors.