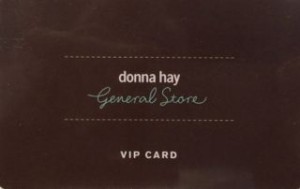 The Donna hay gift cards we created for use with our software in the Donna Hay retail business are an excellent example of how a smart retailer can offer a service through our software that helps retail revenue for the business. each card has a unique barcode and our software tracks the balance held on the card by the customer.
While many years old, this gift card facility helps retailers retain revenue – it's good for business and another good reflection of a valuable opportunity we offer our retail partners.
Besides offering excellent gift card support in our POS software, we also offer a gift card design and production service.