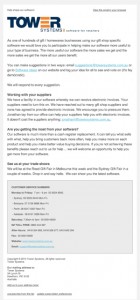 In addition to regular emails to our customers offering fresh advice and help in beneficial use of our Point of Sale software, we email each of the marketplaces to invite engagement in the direction of the software.
The image shows one such email – this one sent to the hundreds of gift shop software customers we have.
This email was all about what we can do to help their business beyond the software – connecting them with suppliers, enhancing the software further for their needs and providing more training. All this help was offered free.
Small retail businesses love this personal engagement in emails tailored for their retail channel and serving needs unique to their type of business. It's another way we demonstrate the value of being a specialist in each retail channel.