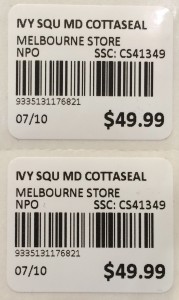 The options we offer in labels produced by our Point of Sale software are considerable and have been for many years. In addition to supporting laser labels and single strip labels, we also offer our customers tremendous flexibility in label design – and have done for many years.
Our labels  reflect a quality and professionalism customers love. They are customer friendly – easy to read. Too often labels produced by POS software are hard for the human eye to read, they are feint and for tech solution than retail solution.
Thanks to the label options offered from the Tower software retailers can produce labels they want on stock they want – punch what matters most to retailers and their customers.
Professional labels can help retail businesses grow sales and reduce theft.