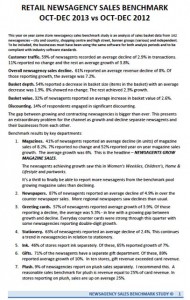 Tower Systems last week competed a new sales benchmark study for small business newsagents, offering valuable insights into overall newsagency channel performance and thereby enabling newsagents to compare the performance of their individual business with the the channel-wide benchmark.
Used by newsagency suppliers and individual newsagents, these sales benchmark studies provide excellent insights into the health and opportunities in the the newsagency channel for engaged proactive newsagents.
Serving three times more newsagents than all other newsagency software companies combined, Tower Systems has the widest pool of newsagency businesses on which to draw for studies such as this latest benchmark study.
With the work undertaken for newsagents without cost, Tower widely shares the results for the good of all newsagents and their suppliers. There is no cost involved in participating or access to the data.
The latest study reveals a cohort of newsagency businesses achieving excellent sales growth in higher margin items, reflecting on the commercial value in driving the business as a retailer and not as an agent. 
The study also underscores the value of the discount voucher program now being used by many Tower newsagents.