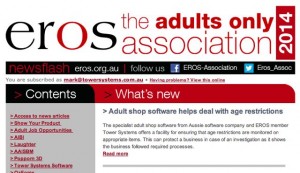 Eros, the respected association of adult shops and suppliers in Australia featured Tower Systems in their latest member bulletin, drawing attention to the easy to use age restriction facilities in our adult shop software that help adult shop retailers and their employees to meet their legal obligations in terms the age of customers for certain products they sell. We help these businesses make fewer mistakes.
Our work with adult products wholesalers and adult shop retailers helps us serve the needs of both types of businesses. This work also helps us better serve in other marketplaces. The result is more effective and valuable software for our customers.
In addition to age checking, our adult shop software offers a range of facilities including a shopper loyalty facility that works well when customers don;t want their details tracked.