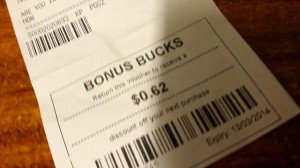 A retailer using our smart POS software sent us this photo of a discount voucher produced by their software. They call theirs BONUS BUCKS. We love this!
Using our software retailers can call their vouchers whatever they like, this personalisation opportunity helps them speak with their customers in ways that they know will for in their situation.
Too often software companies provide software that is rigid, software that fails to let the retailer speak with their own voice. Not Tower Systems. At every opportunity we offer flexibility to facilitate our customers speaking in their own voice.