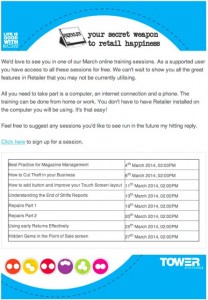 Retailers using the Tower Systems Point of Sale software have been given more free online training opportunities in March with the release last week of new live workshop topics … and in a few hours the sessions started to fill with  retailers using the Tower software jumping on opportunities.
We select topics for training based on an analysis of help desk call reasons, knowledge base searches and customer feedback. This ensures that training is being offered in areas of need and interest among our customers.
The latest series of workshops has been promoted through our website, via our help desk and through an email sent to our customers. Access to the live training workshops is completely free including the phone call for audio participation.