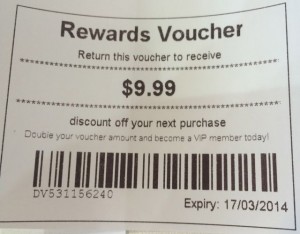 Here is another example of a discount voucher produced by our software. This time, the retailer is calling it a Rewards Voucher. This shows off one of the many elements of flexibility in our software – the ability for the name of the voucher to be set by the local business at any time.
The retailer can call it something that they know will better connect with their customers. Good POS software provides flexibility like this.
Beyond what we call the voucher, our retail partners are able to adjust settings to deeply personalise the experience, value and other aspects of this sales-driving marketing tool.
We are excited to see more examples of how our customers are engaging with this.