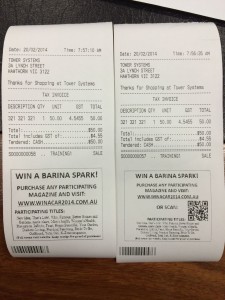 Tower Systems is helping small business newsagents leverage their receipts to engage with a high profile competition being run by Pacific Magazines – offering further support to our position that the receipt is a vitally important business development and marketing tool.
Beyond detailing what was purchased, a good receipt can get a shopper back sooner, it can get them spending more right away and it can make them feel even better about shopping with the business.
The key to leveraging the retail receipt for maximum value to a retail business is the relevance of what is on the receipt. It is important that any pitch or promotion is relevant to this customer at this time. This is where Point of Sale software can help.
Our experience is that retail businesses that use the receipt as a marketing tool are more likely to be growing and achieving a deeper basket with existing customers. For next to no cost they are embracing another customer touch-point. Enough customers respond to make it valuable.
In the two examples you can see a WIN A CAR promotion being pitched on the receipts. The receipt on the right includes a QR code for rapid shopper engagement. By helping our retail newsagency customers serve these coupons we are helping them connect with a major supplier initiative quickly, easily and professionally.